Robyn Yvette Dance Centre has a brand new home
at 180 Salamander Way Salamander Bay.
Their purpose built facilities are fantastic. The Think Team helped Lance and Robyn design the interior and exterior signage of the building.
Firstly though their old logo needed a bit of a refresh. Nothing major but a change of colour, fresher vibrant purple, and a more energetic dance position, and we were ready to go.
Next came the signs. We had such a big canvas on the front exterior of the building to work with, it was great. Routed letters combined with the vibrant purple band were used as a beacon to show where they were from the street view.
Designing the concept for the front entrance, which we believe had the most impact we created this beautiful imagery.
We wanted the experience to be memorable and believed the dancers would be able to relate and relive their own experiences as they stood backstage waiting to go on, just by looking at the image.
Stepping onto the stage through the doors, elegance and simplicity was the focus point. Clean imagery once again telling a story that was relatable to the students was important.
Custom stars decals were applied to the doors for a bit of class and personality.
"Just Dance" change room was beautified with wallpaper, this gorgeous shot of the ballerinas getting ready, against the rich timber flooring compliments the relaxed vibe of the dance centre.
For a more tactile feel we used 3D lettering on the counter sign, subtle but this just creates a bit more depth to the sign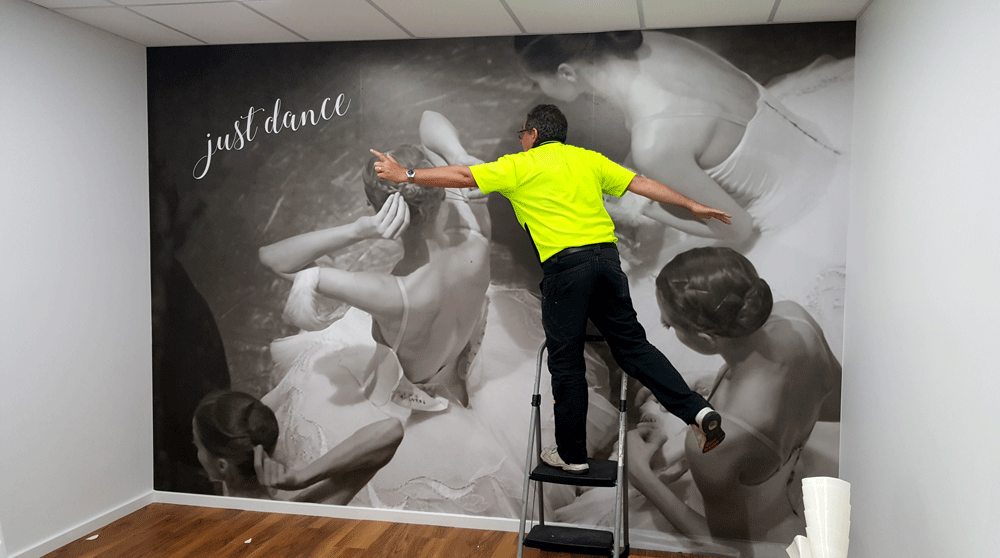 Royce showing his elegant dancing skills, such poise and style.
If you would like to talk to us about designing your own custom signage just click on the button